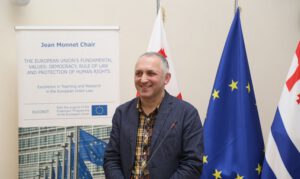 Malkhaz Nakashidze is a Jean Monnet Professor and Jean Monnet Chair at the Batumi Shota Rustaveli State University (BSU) in Georgia. His areas of teaching and research are in the Comparative Constitutional law, Comparative Politics, European Constitutional Law and Government. He teaches classes in Public Law at the undergraduate and graduate level since 2000.
He holds a Master of Laws degree from Batumi Shota Rustaveli State University and a Doctor of Laws degree from Ivane Javakhishvili Tbilisi State University (2010). In 2012 Malkhaz Nakashidze, as post-doctoral fellow visited Dublin City University, School of Law and Government and in 2013 completed a post-doctoral research on the parliamentarism in the South Caucasus countries. His post-doctoral research "Semi-Presidentialism in Georgia" as a book chapter was published by Palgrave Macmillan in Semi-Presidentialism in the Caucasus and Central Asia Editors: Elgie, Robert, Moestrup, Sophia (Eds.).
Dr. Nakashidze has a wide experience of working in a public and private sector. In February 2007, he was elected as a chancellor of Batumi Shota Rustaveli State University and held this position until February 2009. He had various administrative positions in Public Sector in Georgia, including Head of the Department of Justice of Adjara Autonomous Republic (2005-2007), Deputy Minister at the Ministry of Finance and Economy of the Autonomous Republic of Adjara (2009-2010) Deputy Head at the Regional Centre for Research and Promotion of Constitutionalism (2010-2012). Malkhaz Nakashidze was a Founder and Manager Partner of the Law Company (2003-2004) and a Regional Coordinator at the Observation Foundations "Fair Elections" (2004). In 2014-2018 Malkhaz Nakashidze was elected as a member of Academic Council of Batumi Shota Rustaveli State University from faculty of law.
Malkhaz Nakashidze has been awarded one of the most prestigious 2016-2017 Fulbright Visiting Scholar Program sponsored by United States Department of State and visited Boston College Law School as a Fulbright Visiting Scholar.
In October 2018 Malkhaz Nakashidze was a visiting scholar at Sapienza University, Department of Political Science. In 2018 he was awarded with the Latvian State Research Scholarship 2018/2019 funded by the State Educational Agency of Republic of Latvia and visited Faculty of Law of University of Latvia in 2019. Malkhaz Nakashidze received the Mevlana Exchange Programme 2018/2019 scholarship funded by Government of Turkey and as a visiting professor visited Ataturk University Law School in 2019.
Malkhaz Nakashidze as a legal expert was included in the list of experts for the provision of independent external expertise in various law branches and methodologies in the field of comparative law (2016/S 133-238952) managed by the European Parliament, Directorate-General for Parliamentary Research Services.
For more information please visit University website and download CURRICULUM VITAE