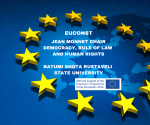 INTERNATIONAL CONFERENCE
"DEMOCRACY, RULE OF LAW AND PROTECTION OF HUMAN RIGHTS IN THE EUROPEAN UNION"
Dedicated to the 30th anniversary of legal education in Batumi
BATUMI SHOTA RUSTAVELI STATE UNIVERSITY, FACULTY OF LAW AND SOCIAL SCIENCES
Call for Papers and Panels
Batumi Shota Rustaveli State University, Faculty of Law and Social Sciences, welcomes you to the International Conference "Democracy, Rule of Law, and Protection of Human Rights in the European Union" organized by the Jean Monnet Chair, to be held on September 29-30, 2023, in Batumi, Georgia.
Please download Call For Papers and Conference nformation (PDF) გთხოვთ გაეცნოთ კონფერენციაში მონაწილეობის პიროებებს (PDF)
All submissions must be made by August 15, 2023 via paper submission form and a Full panel submission form.
For any inquiries regarding the 2023 Jean Monnet Conference, please contact us via email: info@jeanmonnetchair.edu.ge
Working languages of the conference are Georgian and English.
კონფერენციის სამუშაო ენებია ქართული და ინგლისური.
We look forward to receiving your submission and to seeing you in Batumi!

Jean Monnet Chair "The European Union's fundamental values: Democracy, Rule of Law and Protection of Human Rights" is funded by European Commission in the framework of Erasmus+ Programme of the European Union. Jean Monnet Activities are designed to promote excellence in teaching and research in the field of European Union studies.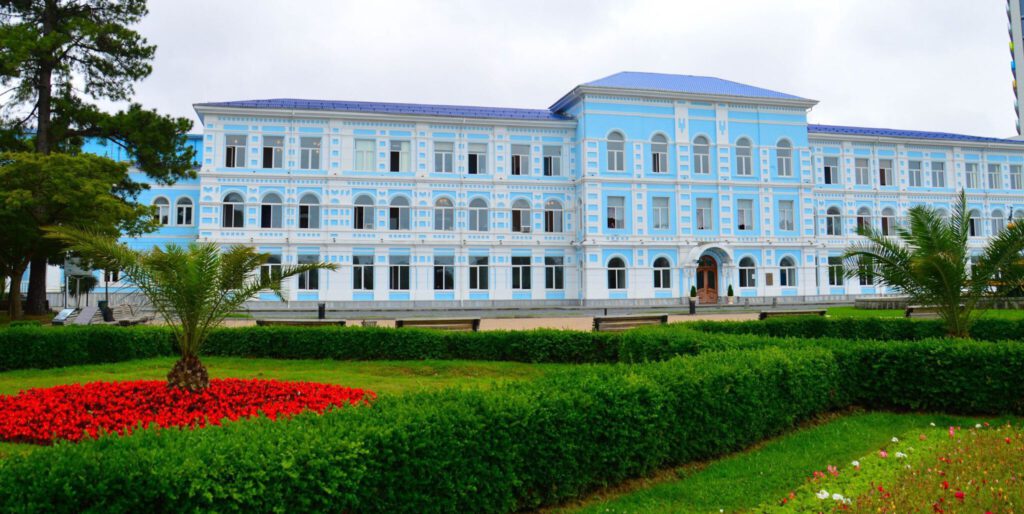 CONFERENCE VENUE
The conference will be helt at the Batumi Shota Rustaveli State University, in Batumi, Georgia. The Batumi Shota Rustaveli State University is one of the leading higher education institutions, a strong educational-research center in the national and international educational space.
For farter information please visit website
HOST CITY – BATUMI 
Batumi is the second largest city of Georgia and the capital of the Autonomous Republic of Adjara, located on the coast of the Black Sea in Georgia's southwest. It is situated in a subtropical zone at the foot of the Caucasus. Much of Batumi's economy revolves around tourism and gambling, but the city is also an important seaport and includes industries like shipbuilding, food processing and light manufacturing. Since 2010, Batumi has been transformed by the construction of modern high-rise buildings, as well as the restoration of classical 19th-century edifices lining its historic Old Town. Fof more information please visit website
TRAVEL INFORMATION – By Train
Travel from Tbilisi to Batumi by direct train of Georgian railways.
The journey time is 5:30 hours.
The train ticket fare is 35 GEL (12 EUR) in 2nd class and 75 GEL (26 EUR) in 1st class.
Find the exact train schedule and buy your tickets via the website of Georgian Railway https://www.railway.ge
Buy tickets via the websites https://tkt.ge and https://biletebi.ge
CONFERENCE COSTS
There is no conference fee, but participants must cover their own travell and accommodation costs. Lunch will be sponsored by the Jean Monnet Chair at the conference venue.
PUBLICATION
Selected conference papers will be published in edited book or conference proceedings (electonic or/and printed).
Please Guidelines for Manuscripts for correct formatting and font use. Submit the paper in a "Microsoft Word Document". The size, length of paper should not be more than 10000 words.
Note: Authors of selected papers could be asked to correct a format of the paper before publication in conference proceedings or edited book.
A full paper submission deadline: September 15, 2023
Submit papers at email: info@jeanmonnetchair.edu.ge
CONFERENCE VENUE – Batumi Shota Rustaveli State University, 35/32Ninoshvili/Rustaveli str. 6010 Batumi, Georgia
ACCOMMODATION IN BATUMI